What is Society of Curiosities?
We are a subscription-based mystery box company that delivers a mystery in a box (or letter depending on the case) to your door every month. Each episode is about 60 minutes of gameplay time.
We also offer 1 standalone adventure, Mysterious Map Heist, which is a great introduction to the world of the Society of Curiosities and can be played completely online.
You'll get to examine unique artifacts, ancient documents, articles, and leads that the society has gathered for you and solve a mystery. Be prepared to use your phone and the internet as our immersive world will lead you to many hidden spots!
Your first case — what's in the package?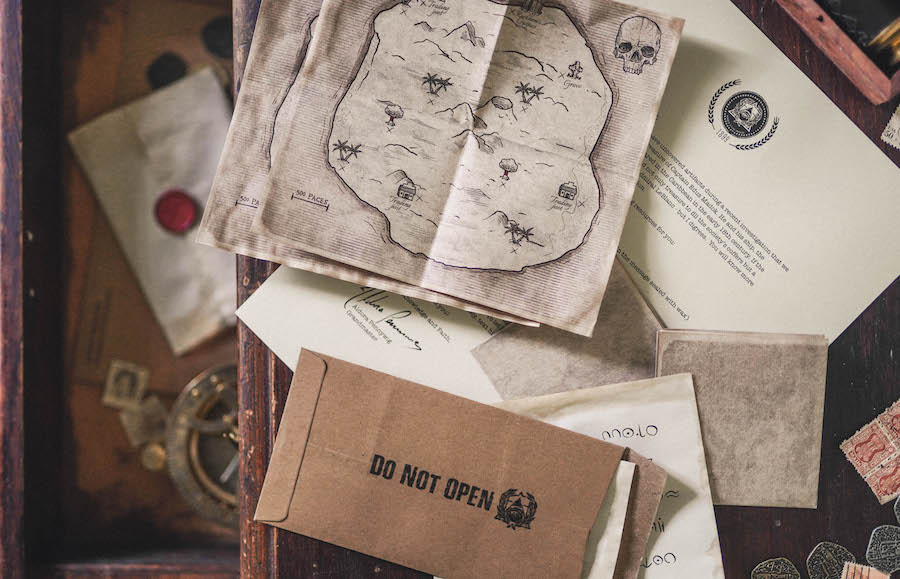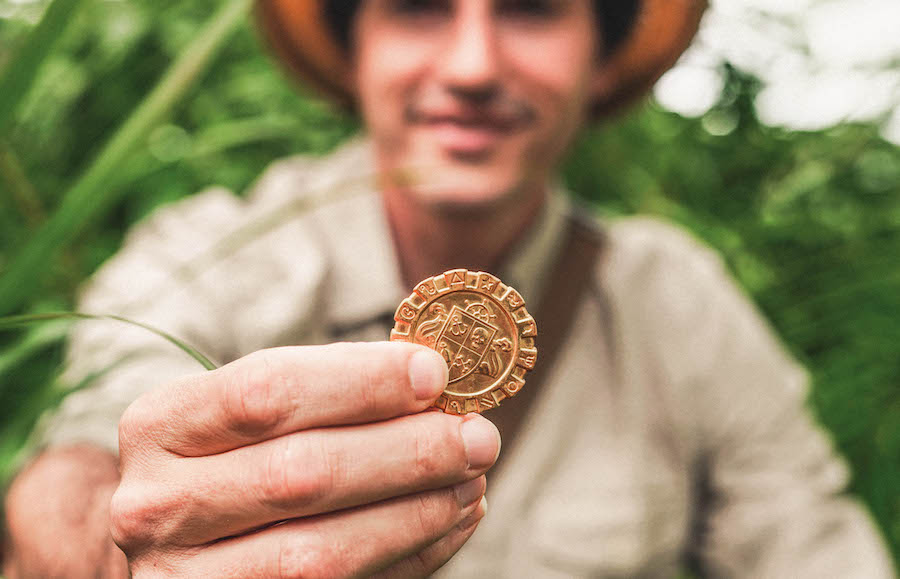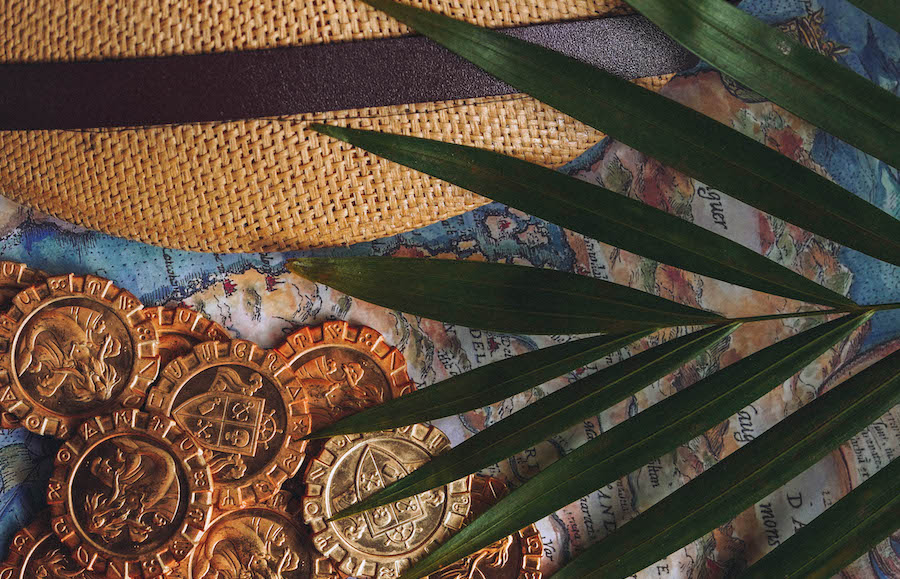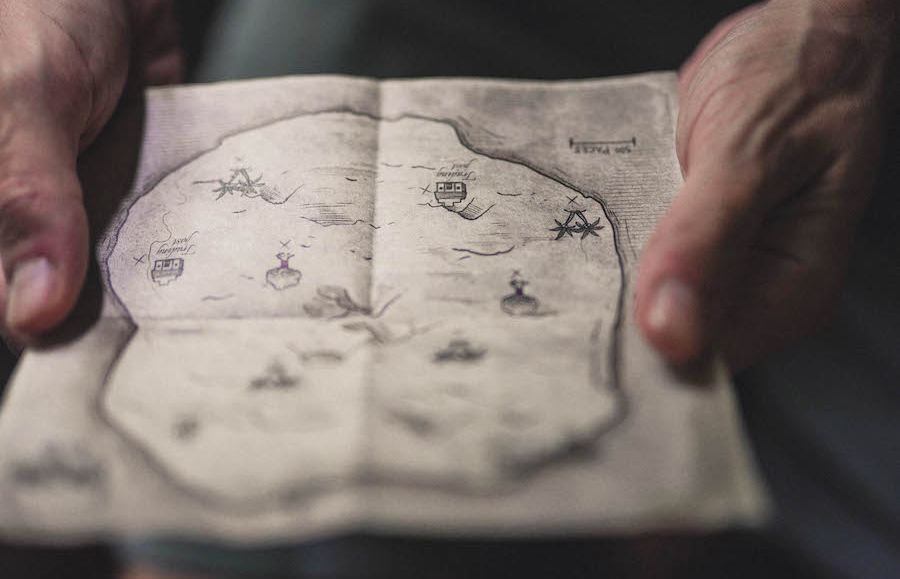 You receive new information that could lead to the discovery of the lost treasure of Captain Edus Madok. Study the artifacts, articles, and expert resources to track down the location of the treasure and dispatch your team to dig it up.
Is My Mailing a Box or Letter?
The type of package depends on the story! We value reducing waste and will package the game in the most efficient way possible. We promise you that no matter what the size, our mailings will delight and surprise!
How do you play Society of Curiosities?
Your experience begins before you even get your first mailing. Our grandmaster, Aldora Pennywig will email you information on the society, your role and tips for a successful mission.
Once the mystery in a box (or letter) arrives, read through the letter from the grandmaster, make sure everything is in there (you'll see a checklist in the letter) and then the fun begins!
Examine your artifacts and documents for clues, websites, phone numbers or anything else that might be of help. Follow the clues where they take you. Our world is huge - you might go online, to Facebook, Instagram, or a webpage. You might call or text someone! The Society of Curiosities has a lot of resources and you never know what the mission has in store for you!
As you play the subscription puzzle game, make sure to take notes, take breaks as needed and use your hints when you feel stuck and want a small nudge. Most importantly, have fun!
Don't forget to tag us on Instagram @societyofcuriosities or #societyofcuriosities.
When will I receive my missions?
Your first mystery box (or letter) will ship within three business days of your order. Your will then get a new episode every month.
Keep an eye out for surprise letters too!
Can I change to a different type of subscription after purchase?
Yes. Contact our support team to change your membership.
What do I do if I need help or feel stuck?
Every mystery box has a list of hints that you can access through your account.
We take great care in breaking down the hints into small increments, so the hints nudge you in the right direction rather that just give you the solution.
How much does it cost?
Subscriptions start from $19.50. You can see all of our packages here.
Our standalone adventure, Mysterious Map Heist, is available for $12.
What ages is the Society of Curiosities designed for?
Our game subscription boxes are challenging! We recommend ages 14+ for play. Younger players, accompanied by an adult can participate in the game and have a blast, but some of the challenges might be too difficult.
For Mysterious Map Heist, we recommend ages 12+.
What if I'm not ready to commit to a subscription?
Try our standalone adventure, Mysterious Map Heist!
When you decide to try our subscription, you can cancel at any time - and it's super easy! Play and stay for as long as you'd like.
Check out our cancelation and refund policy for all the details.
How many people can play this subscription box game?
Our mystery in a box (or letter) is designed for one to four players. If you have multiple players, extra computers and phones can make play more enjoyable. We've even seen players order two kits so they can play together remotely - great idea!
Do you ship internationally?
We currently ship to the United States, Canada, and the United Kingdom. More countries will be available very soon! Join our mailing list for updates on international shipping.
Join our news & deals newsletter
Who creates Society of Curiosities escape room boxes?
Our award-winning team has an extensive background in game design, psychology, education, programming, and mixed media. We also do a great deal of research to source artists and designers for each game box subscription episode to fit the feel of the mystery. In the past we've hired tattoo artists, calligraphers, cartographers and magazine professionals. See our about page for more information on the creators and collaborators.
What if there is something missing from my box?
It's always a good idea to reference the checklist in Aldora Pennywig's mission letter. If something is missing, please contact us and we will get that fixed right away!
How long does it take to solve the mystery in the game?
Each episode is designed and play-tested to provide about 60 minutes of gameplay.
Do I need the internet to play Society of Curiosities?
Yes. You must have internet and a phone to play our games. Great question!